Media Professionals from the Dominican Diaspora in New York Visit the GFDD Offices
New York, 12/12/2018
The Global Foundation for Democracy and Development and its sister organization in the Dominican Republic la Fundación Global Democracia y Desarrollo (GFDD/Funglode) was pleased to welcome a group of media professionals to its New York offices on Tuesday, December 11.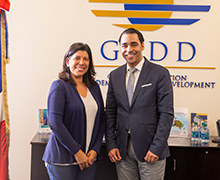 The group met with GFDD staff including New York Office Director Yamile Eusebio to chat about ongoing GFDD/Funglode projects and the educational programs that the organization will be creating through Radio Funglode for the Dominican community living abroad.
During the meeting, Eusebio highlighted many of the GFDD/Funglode activities and projects that directly impact the Dominican diaspora in the United States including Dominican Get-Togethers, the Dominican Film Showcase and Funglode's Revista Global, among others.
Among those present at the meeting were Kelvin Mejía, Director of Radio Funglode, and Geraldo Rosario, a Funglode contributor. A group of six Dominican media professionals that work in various media outlets including radio and television was also at the meeting.
The attendees spent some time sharing impressions of the educational programs Pa'que lo sepas "So You Get it" which have been on the airwaves in New York City since October 2018.