DREFF, Cinemateca Dominicana and the Centros Tecnológicos Comunitarios promote environmental awareness
Santo Domingo, 8/13/2018
This past Friday, August 10th, Global Foundation for Democracy and Development (GFDD), together with its Dominican Republic Environmental Film Festival (DREFF) and the Cinemateca Dominicana, screened the children's environmental short film "Peter Plastic" to youth from the Centros Tecnológicos Comunitarios (CTC).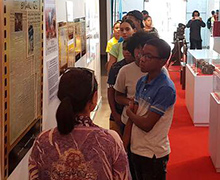 More than thirty young adults from the CTC La Barquita visited the Cinemateca Dominicana in Santo Domingo, participated of an interesting guided tour of its "Findings" (Hallazgos) exhibit, and enjoyed the screening of the short film provided by DREFF.
This initiative is part of DREFF and Cinemateca's joint efforts to promote environmental awareness and sustainable development in the country.